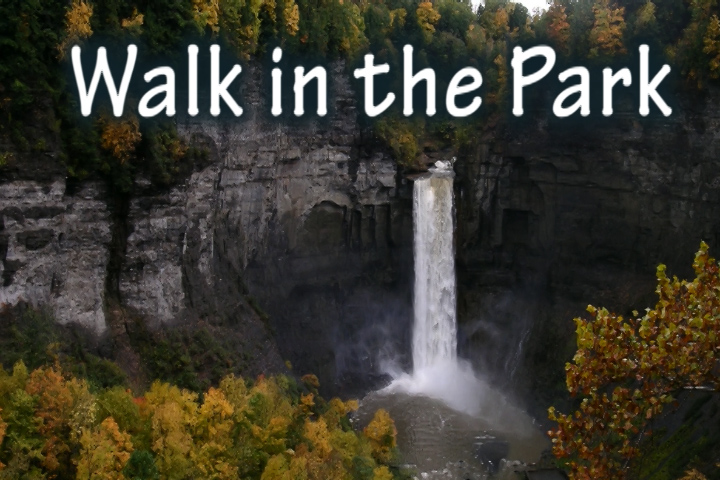 I have begun a new series on Ithaca public access television (PEGASYS) cable channel 13, called "Walk in the Park"! It is in a "magazine" format, with segments about various parks including events, park news, interpretation of cultural and natural history, park-related issues, and lots of photographs and video clips.
Each week, I will feature items posted on this blog and much more. The program runs half an hour. Soon after the show is recorded, I will post it online with a notice on this blog. I plan to create a page here with all of the shows and their summaries. If you don't subscribe to Time Warner Cable TV in the Ithaca area, you will only be able to see the show online.
Each episode will run four times over the ensuing week. The first showing each week will be on Thursday and the final showing will be the following Tuesday.
Weekly Schedule through August:
Thursdays,                9:00 p.m.
Saturdays,             10:30 a.m.
Sundays,             10:30 a.m.
Tuesdays,              8:00 p.m.
In this week's episode, airing first on July 12, I feature images and video from the shadows and reflections of Buttermilk Glen, a video of Ithaca's Independence Day fireworks at Stewart Park, Newtown Battlefield State Park (with more information than last week's blog post including bird photographs), Watkins Glen historical photos, and news from Robert H. Treman State Park about new trail features and a new exhibit in the Old Mill about the CCC camp in the park in the 1930s. Watch it here!
In future episodes, there may be guest appearances by park squatter and backwoods philosopher Ichabod. Click on his picture below to see his short commentaries and rants. But beware, they don't call him "Icky" for nothing!