Welcome to my blog!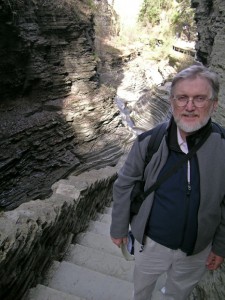 My name is Tony Ingraham and I live in Ithaca, N.Y. For 24 years, I was in charge of environmental education for the Finger Lakes Region of New York State Parks, including Watkins Glen, Buttermilk Falls, Taughannock Falls, Cayuga Lake, Fillmore Glen, Fair Haven Beach, and many other state parks in central New York State.
Since my retirement a few years ago, I formed Owl Gorge Productions, and, with the outstanding editing skills of my wife, Liz Bauman, published A Walk through Watkins Glen: Water's Sculpture in Stone, and Ithaca: the City, Gorges, and Colleges, co-authored with Liz. A Walk through Watkins Glen won a first place award in the Media Competition of the National Association for Interpretation in 2009. To find out more about these very well-received books, please see our website.
I have created this blog about parks in the Finger Lakes region of New York State and beyond, as a service of our little business and its publications.
We have also been working on videos about the area and plan to have some products available. For several years, I have been a public access television producer with PEGASYS, the local public access TV station in Ithaca. I have produced two series, Nature Nearby, and Cayuga Lake Heritage. Also, in cooperation with the Friends of Robert H. Treman State Park, I have produced The Treman Show, a 25-minute video about the park that is accessible for viewing at a video kiosk at the park and online. I have produced a new series on public access called Walk in the Park which is cablecast and are available online on our YouTube Channel.
I hope you enjoy my blog entries. I welcome comments. And check out my Facebook pages (see sidebar on our home page) and "Like" them to get regular postings both of notifications of updates to this blog and additional material only published on Facebook. And if you would like to get email notifications of my postings to this blog, please subscribe where it indicates you can do so on the right side of the blog page.
Please note that all material I publish in this blog is copyrighted by me, unless otherwise designated, and can only be used with my permission. Thanks.
Tony Ingraham, 2013